WHEN YOU ATTEND THE FESTIVAL YOU GET:
accommodation in shared rooms plus towl and bedding (except 'One day visit' tickets)
full board with 80% being organic  (breakfast, lunch and dinner + access to fruit at other times too)
amazing lectures from internationally renowned speakers flown in from anywhere in the world
fitness activities and social activities from early morning till late evening
PLEASE NOTE

that Registration is not yet open for 2018! (coming soon)
Below you can see prices for 2017.

…
PRICE PR. PERSON 2017
 
Adult
Student/ retired
Child age 5-12
Child age 2-4
Early bird
(Ends April 1st 2107)

3.250 DKK (about 437 EUR)

Not available, see Normal price
Not available, see Normal price
Not available, see Normal price
Normal price
(After April 1st)

3.790 DKK

(about 509 EUR)

3.150 DKK




(about 423 EUR)

1.590 DKK


(about 214 EUR)

780 DKK




(about 105 EUR)

One day visit
(No room or bedding)
989 DKK


(about 133 EUR)

–
480 DKK


(about 65 EUR)

390 DKK


(about 52 EUR)
A 1% card processing fee will be added to card payments.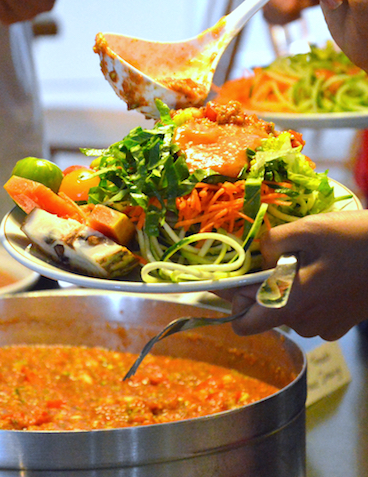 SPECIAL PRICES 2017
No room – 3 nights
(If you sleep in a tent/ at home)

– 250 DKK off the price

(about -33 EUR)

Single room for 1 person – 3 nights*
(Only if we are not fully booked)

+ 360 DKK extra


(about 48 EUR)
Festival mini-bus
(one way)

Not available for 2017
A 1% card processing fee will be added to card payments.
* Single rooms are only available if we are not fully booked. In case we sell out and you need to share you can get a free refund of either the single room fee or the entire festival. NO MORE SINGLE ROOMS AVAILABLE. Join the waiting list by emailing contact@freshfoodfestival.com. If you consider NOT coming to the festival at all because of that, please send us an email too and we shall see if we can organize a single room for you.
VOLUNTEERING TICKETS 2017
Full time volunteer**
(Including room)


1.990 DKK*




(about 267 EUR)

Part time volunteer**


(Including room)




2.890 DKK*




(about 388 EUR)
A 1% card processing fee will be added to card payments.
** As a volunteer you will be working half of the time in the kitchen preparing food and the other half washing up. Read more here.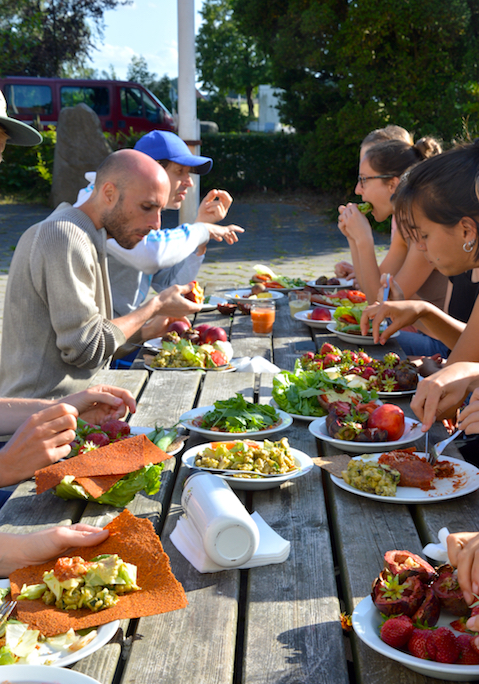 GET YOUR TICKET NOW
You get your ticket by clicking the button below. When you have paid and registered you will recieve a confirmation e-mail and your name will appear on the 'Who is coming' page a few days later.  Then all you have to do is state your full name upon arrival and we will find you on the guest list.
Feel assured that we will not share your personal information with anyone else. If you have any questions regarding payment or registration please send an e-mail to contact@freshfoodfestival.com.
FESTIVAL DEADLINE
We prefer if you register before July 1st so we will have time to order the food and the beddings but if you can't then later is ok too. Rooms will be given on a first come first serve basis and there are  a maximum of 150 spaces in total for the festival. If you sign up for the festival newsletter in the sidebar we will e-mail you whenever there are important news.
CANCELLATION POLICY
If for any reason you need to cancel your registration up to one month before the festival we will give you a full refund minus 200 kr.  administration fee per person. Children under the age of 4 are not charged an administration fee for cancelling. If you cancel less than 1 month before the festival the cancellation fee is 350 DKK. You can cancel until the day before the festival starts. If for whatever reason you are unable to attend the event after the event has started, you can transfer your ticket to someone else (just let us know who) or attend a future Festival if such is held. If you wish to cancel please send us an e-mail at contact@freshfoodfestival.com and pay here.